Get Peace Of Mind with Sure-Fire Service Memberships
At Sure-Fire, we carry only quality products from well-known, dependable manufacturers. We wouldn't put our name behind anything less.  But even with the finest heating and air conditioning equipment, things can sometimes go wrong.  That's why we train our service department to be the best in the area, and why we offer service memberships to protect your investment.
Join The Club!
Independent studies show that homeowners without maintenance plans for their HVAC equipment pay an average of $300 more per year on service calls and energy costs.  Doesn't it make sense to pay just a fraction of that to keep your equipment well-maintained and worry-free?
But it doesn't take an emergency to benefit from Sure-Fire's service.  Service Membership keeps your equipment safe, efficient, and running smoothly.  With a Sure-Fire Service Membership, your equipment will receive year-round, regularly scheduled service from one of our trained technicians.  They'll add years to the life of your equipment by cleaning and calibrating controls, greasing and oiling moving parts, and cleaning filters and coils for more efficient operation.  What's more, regularly scheduled maintenance enables us to find potential problems before they cause a major service interruption and result in costly repairs.
Service Membership built around your needs
Service Membership Pays For Itself With Your First Tune-Up!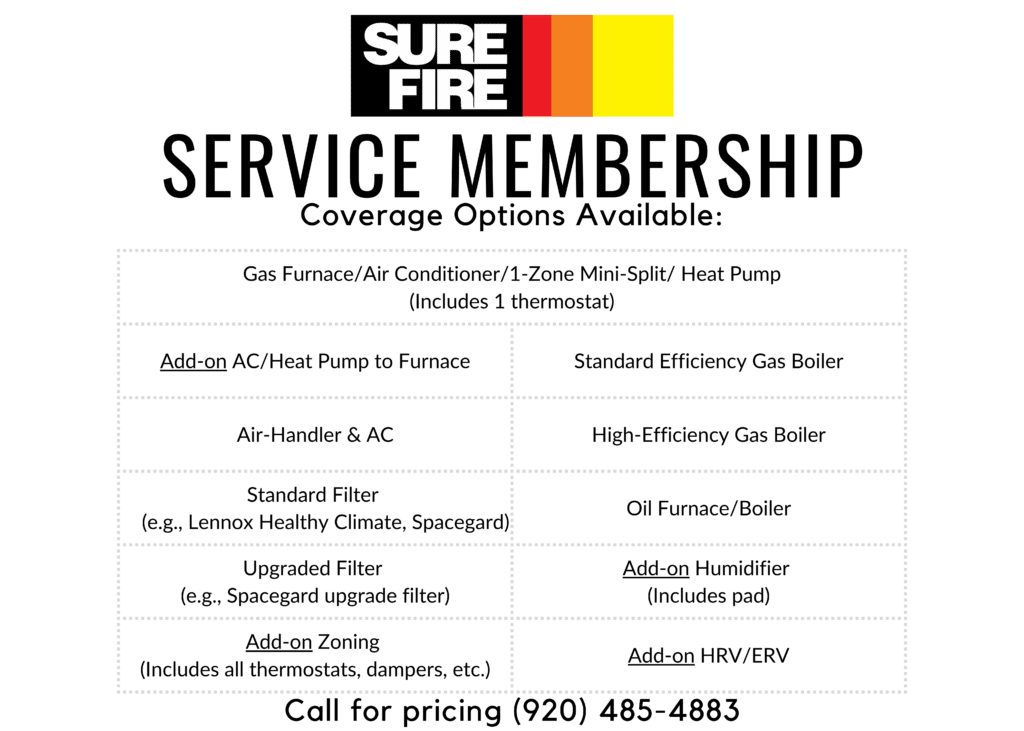 ***Service Memberships are transferable but non-refundable. Call the Sure-Fire team for details (920) 485-4883.
Ask About Getting Your First Month FREE!